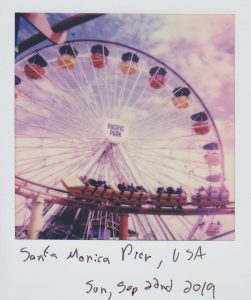 Relationships are a challenge to maintain, and it is widely held that faithfully holding "Date Night" each week is a key to keeping those home fires burning.
These days, however, dating can definitely be a strain on your budget. Whether you are married or dating, there is no need to resort to sneaking into the movie house through the back door, or ordering Happy Meals and putting a candle on the table in the Play Place. Here are some ideas for cheap dates that are fun and unique: 50 ways to spend some quality time together.
1 – Picnic. Don't underestimate the charm of an old-fashioned picnic. All you need to pack is a blanket, a few sandwiches, and some sodas. For a more romantic feel, don't forget the champagne glasses, a chilled bottle of bubbly, and chocolate-dipped strawberries for dessert. Be sure to scope out a good location ahead of time; you will want it to be at least partially secluded, unless it's a first date. In that case, try a local park.
2 – Field trip. Many museums and art galleries offer free or discounted admissions at least one day a month. It will just seem like providence if you happen to show up with your date on one of these days. Museums offer a wide variety of things to explore, but art museums tend to be quieter, without so many children. There is something about strolling through quiet hallways and secluded areas that makes us want to be kissed.
3 – Exploring. There are many places in town you have never even seen, from ethnic neighborhoods, or an abandoned theme park, to the rooftop of your own building. Do a little snooping on your own to find some exciting possibilities. On the day of your date, pack a lunch, remind them to dress in comfortable shoes, and head out. Don't forget the flashlight, and possibly a map.
4 – Theme date. Quirky dates not only show you are imaginative, they can be inexpensive. People love it when some thought has been put into a date, and this is a great way to impress. Try dressing up in western or old-fashioned clothing, and going out to a country bar with swing dancing. If you don't know how to swing dance, find out which night they offer lessons, and make that your first theme date. Another idea is to dress in 50s style clothing and hit the local 50s style diner, order hand made milkshakes, or Colas in those little bottles. You'll be having so much fun, your date won't even notice it costs you less than $20.
5 – Dinner in. Offer to cook dinner for your date. The ability to cook is always desirable in anyone, and eating in is much less expensive than going to a nice restaurant. This may be a little intimidating for a first date, but is definitely a go-to for a third or fourth date.
6 – Cooking classes. Check to see if there is a culinary school near you, and whether they offer one-night classes. These are popular dates in many communities, and provide a way to get to know each other while having fun. This lines you up to try out your new cooking skills with Dinner In.
7 – Downstream with a paddle. There is just something romantic about floating on the water with your date. You could take her canoeing, rent a paddle boat on a local lake, or take a ferry. If you go canoeing or paddle boating, be sure there is a comfortable place for your date to relax and see the sights while you do the paddling. Whether you continue dating or not, it is sure to be a memorable time for both of you.
8 – Local sports. Who doesn't like to let their hair down, wear a pair of tennis shoes and a ball cap, and take in a game with their date? Local amateur teams play in just about any sport you can imagine, all across the country. It may not be a major league game, but it's free or low-cost, and you won't have to pay $15 for a hot dog. In fact, take a backpack with a bag of chips and a couple of beers to watch the local slow pitch softball teams play. It may just be one of the most fun dates you've ever had.
9 – Teach your date to drive stick. These days many people, don't know how to drive a manual transmission. Assuming you are proficient in this task, take your date out and teach them this traditionally skill. Your date will feel empowered and thrilled to learn. This date costs nothing but time and a little gas, and all you need is a vehicle with a manual transmission, and an empty parking lot or low-traffic country road. Combine this date with a traditional picnic, and make an afternoon of it.
10 – Outdoor movies. Many communities offer outdoor movie screenings as an alternative to stuffy movie theaters when the weather is warm. These screenings are often free, and usually take place at local libraries, museums, or even outdoor theaters. You are sure to find some unexpected reels, from classic movies, to documentaries, or even recently from-the-theater fare.
11 – Traditional dinner and movie – Sort of. If you are bent on taking a more traditional route, but would still like to preserve the bank account, try brunch and a matinee instead. Matinee showings are cheap, and even fancy restaurants are more affordable in the late morning or early afternoon.
12 – Gag shopping. Joke Shops are not as commonplace as they once were, so they make a fun diversion. This shop full of gags, pranks, practical jokes, magic, novelties, and other fun stuff is a conversation starter in itself. While there is a lot of stuff to look and laugh at, the weird guy who runs the place is always a source of amusement as well. If you come across something in the shop your date likes a lot, buy it on the down-low and surprise them with it at the end of the date. Most joke shop items are priced somewhere between $2 and $20.
13 – Popcorn and a movie at home. When it's a gray and rainy day outside, pull up your favorite old TV show or movie on Hulu or Netflix, pop some popcorn, and heat up the hot cocoa. Snuggling together on the sofa under a quilt can be great fun.
14 – Open house hunting. Check out the local (or out of town) real estate listings to find open houses on the weekend. Dress casually to stroll through the houses you would just love to own someday. Going to the open houses makes it much less likely you would have to deal with a determined real estate agent; but for fun, dream up alternate personas and dream lives to tell them all about if you get cornered.
15 – Park play. Pack a bag of stale bread or popcorn and some sodas for an afternoon at a local park. Play on the swing set, laughing like 5-year old, and offer to push your date while they swings. After you've had your fill of high-flying fun, wander over to the park pond or lake to feed the ducks. This is especially fun in the springtime, when you will see the baby ducks following along after their mom.
16 – Renaissance fair. Find out where the closest Renaissance Fair is to be held, and plan to make a day of it. It isn't necessary to attend in costume, but it's fun to watch the jousts, royal court, and jugglers, while eating giant turkey legs and drinking ale. Make a contest of who can speak with the best British accent all day.
17 – Bike ride. Whether you haul the bikes to a nature trail, or choose to cruise around town, riding bikes together is a lot of fun. If you don't own bikes, many communities have bike rental shops. Just cruise around and see the sights, pack a picnic, or see who can get to the next destination fastest.
18 – Race training. If both of you are inclined to run, find a local race to enter together. Once you have nailed one down, make an ongoing "date" to train together for the race. In addition to a little healthy rivalry, you will energize each other, and encourage each other to reach a common goal. It's important, however, to make sure there is harmony in these sessions; be sure to go at the slower person's pace. This is a great way for established couples to learn to listen and compromise.
19 – Visit the zoo. Believe it or not, going to the zoo can be a very romantic date. Entrance fees typically range from $5 – $20, but you'll have hours of fun. Wander through the shaded walks, holding hands of course, and watch the animals. Be sure to take your camera, and bring your own drinks and snacks if it is allowed to avoid concession stand prices inside.
20 – Backyard spa. Married couples on date night can send the kids away to Grandma's, fill up a kiddie pool in the backyard, and add bubble bath or scented bath salts. Light tea lights on every flat surface that you can find, turn out the lights, turn up the romantic music, and climb in. Burning citrus-scented incense or essential oil keeps mosquitoes away, allowing you to enjoy your date in peace. Don't forget the wine and soft towels.
21 – Wine tasting. Find a local liquor store that hosts wine-tasting events. These only get expensive if you stick around and buy. Make a game of seeing who can pull off the vino-vocabulary, such as "austere," "supple," and "fleshy," with the straightest face.
22 – Black tie outing. If an evening out in a tight red outfit is what gets your motor running, look to your local art galleries. Getting on their invitation list ensures the occasional evening out to a black tie event, and they usually serve complementary hors d'oeuvres and wine.
23 – College performances. Check out the local college theater arts and music departments for plays, recitals, and concerts. You will find great prices on these events, and some are even free. In addition, you can get into the college mood by making out in the back row.
24 – Ballet on a budget. Many local operas, symphonies, and theaters offer discounted tickets to dress rehearsal performances, or even standing room only tickets. This is another way to have a black tie evening on a shoestring budget, and the performers appreciate a packed house for their final rehearsal.
25 – Comedy show. Your community may have a comedy club, or you may find that other clubs host amateur stand-up nights for local comedians. Laughing until your sides ache is a great way to bond and have fun on a date, and amateur night is usually free.
26 – Hit some golf balls. Spending some time at the local driving range is an inexpensive way to have some fun. Learn to swing, see who can hit the farthest, and get to know each other. If golf doesn't float your boat, try the batting cages instead. Stopping for coffee or milkshakes afterward prolongs the fun.
27 – Horseback riding. Horseback riding is a lot of fun and a great bonding experience. If you're newbies, be sure to help each other, and laugh about your experiences. If you don't have a guide, take a picnic and spend some time talking and laughing.
28 – Fun in the snow. For wintertime fun, check out the local outdoor skating rink. If one of you doesn't skate too well, it just gives you an excuse to hold hands! As an alternative, grab a sled or a snow saucer and head to the nearest sledding site. Be sure to take a warm blanket to wrap up in afterward. Go to the nearest coffee shop for hot cocoa and a recap of all the wipeouts and near-misses afterward.
29 – New hobbies. Make dates to try out each other's favorite hobbies. Take your date to a rock-climbing wall or teach them how to shoot hoops. Be sure to put your best foot forward when they takes you to their spinning class, or teaches you how to knit.
30 – Take a class. Sign up for a short-term class together. In your community you may find free or low-cost classes in areas such as fitness, yoga, gardening, art, or improvement. Even if you decide together not to see it all the way through to the end, it's sure to be a fun experience.
31 – Volunteer together at a local charity, or help out with a community improvement event, such as tree planting. Helping others is a great way to bond, as well as to see your date's compassionate side.
32 – Go dancing. You can't get to know each other in a movie theater, but take your date dancing and you're sure to see their wilder side. Find a place with a reputation for good music, whether it's rock, house, or classical, and get a good table. Don't be a wallflower – if you keep your date dancing, you'll keep their endorphins humming. Don't be afraid to try a line dance, and definitely laugh at each other's dance moves.
33 – Jazz club. Even if Jazz is new to you, taking your date to a jazz club is definitely a romantic way to go. With all the steamy, romantic music, soft lights, and dancing if you like, you can set the tone from light-hearted fun, to dreamy and romantic. While some jazz clubs have a cover charge, there are others without. Scout out a free or inexpensive club in your area before planning your date.
34 – Free concerts. Check to see if any local venues host free concerts. You may find such community events as "Concerts in the Park," or free solo acts at local bars, cafés, and coffee houses. While the price of admission to one of the retail establishments may be a beer or specialty coffee drink, the community park concerts are often free. For the outdoor events, be sure to pack a picnic, or at least a bottle of wine and glasses.
35 – Treasure hunting. Spend a lazy afternoon browsing through antique shops, second hand stores, and flea markets. You'll be amazed how much fun it can be poking through other people's hand-off treasures. You just might find something you've been looking for at a great price, but you don't have to buy – you just have to have fun.
36 – Double date bingo. Sometimes, doubling up on the date doubles up on the fun as well. Invite another couple to join you at a local bar for Bingo or Jeopardy night. Teamwork and competition make for a chatty evening, and you can split the bill for drinks and appetizers for four.
37 – Game night. Another great idea for two or more couples is game night. Dig out those old board games, such as Scrabble, Monopoly, or Pictionary. Some less heard-of games that are terrific for date night include: "Dixit," "Consensus," and the crazy but fun "We Didn't Play-test This At All." Have each couple bring something for a potluck dinner or snacks. You can eat while sitting down for couples or everyone for themselves game. This is much cheaper than going out to the bar, and a lot more fun.
38 – Progressive dinner. This is a group date idea right out of the old Wives' Club book. Everyone starts at your house for appetizers and cocktails. When you're finished, pack it up and move to the next couple's house for the main course. When everyone has finished their delicious dinner, pack it up again and move to the third couple's house for a fabulous dessert.
39 – Indoor picnic. Even in bad weather, you can take your date on a picnic. Simply lay out a blanket on the living room floor, and serve dinner there. A bottle of wine and finger foods are simple, and the privacy offered by being within doors can make this a more romantic option.
40 – Miniature golf. It may seem old-fashioned, but miniature golf is not dead. Help your date with their stroke, or wager on the outcome. Just be sure to be a gracious winner – or loser. This inexpensive pastime is casual and fun, and there's nothing keeping you from a romantic dinner or drinks afterward.
41 – Stargazing. Even if you're not Copernicus or Galileo, you can have fun looking at the stars. Pick up a book on constellations, and hunt for a remote field or meadow in the country to spread your blanket after dark. Lying on your backs, trying to identify as many constellations as you can, is fun and romantic. If a secluded spot isn't an option, aim your telescope at the stars. For professional guidance, visit a local planetarium.
42 – State parks. While there is an entrance fee into National Parks, State Parks abound, and they are free. Pack a romantic picnic for two, find a nature trail to hike, take in the incredible scenery, and just relax. If you prefer to ride, many parks offer bike trails as well.
43 – Go fly a kite. There is something about doing things you did as kids that just feels good. Stop at a local toy store to pick up a kite or a Frisbee, then go to the park for some high-flying fun. You can combine this with a picnic, or just take a walk to the nearest coffee shop afterward.
44 – Bowling. Another old-school idea with a relaxed feel is bowling. Even if neither of you have ever bowled, it's easy to learn the basics, and this makes a great first date, or even 1 year anniversary.
45 – Tourist for a day. There are always places around where you live that tourists enjoy, which residents seldom see. Turn your date into a sightseeing tour of your city or area. Dress like tourists, be sure to take your cameras, and visit all the touristy spots you can find.
46 – Drive-in theater. In this digital age, the drive-in theater has all but become extinct; however, there are still a few around. If you are lucky enough to have a drive-in near you, this is a great way to see a movie and still be able to get to know each other. Most drive-in movies are inexpensive, and they give you a chance to snuggle and fog up the windows like you did back in high school if you want.
47 – Movie or TV series marathon. For a movie marathon, each of you picks a couple of favorite movies, no arguments allowed. If you have similar tastes in TV series, choose one on Netflix that has been off for a while and decide to watch as many episodes as you can fit in. All you need is popcorn, sodas, and a sofa to cuddle on.
48 – Factory tour. This may sound like a grade school field trip, but it's really a lot of fun to see the inside of a manufacturing or processing plant, or a local brewery. It's a fascinating experience, and sharing the experience of discovering how things work is a good way to spend time together.
49 – Sunset on the beach (or wherever). Watching the sun go down is almost a cliché romantic activity, but it never goes out of style. Take your date to the beach if there is one near you. Walk along the shore, scrunching your toes in the sand. Play in the surf as it rushes onto the beach, and hold hands. When the sun is setting, grab a seat and just gaze at the wonder of it all. If there is no beach near you, all you need is a place where the sunset isn't blocked by the city.
Helpful Links and Resources
To learn more about the topics explored in this blog post please visit:
How to Tell If You're Cheap or Frugal
150 Romantic Date Ideas You Can Totally Take Credit For
50 – Ghost tour. If you have a yen for the supernatural, consider going on a ghost tour. Many communities have "haunted houses" that provided guided tours. You may even know of a "haunted house" from your childhood that you and your friends studiously avoided. Take a flashlight for this one, and be sure to stick together.
Cheap dates are as widely available as your imagination is big. For instance, the snow area or ski resort doesn't have to be abandoned during the summer months. If you have a truck or 4-wheel drive, surprise your date by driving to one of these spots, pulling up their favorite music on the radio, pointing the lights uphill, and taking off. Couples who feel they can't take enough time off for adventure can still hold onto the romance by playing strip poker once in a while, baking together, and writing love notes. So why wait? Find deep meaningful love, beat the odds, bet on love.