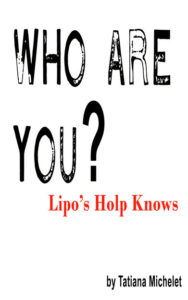 Who Are You?
Lipo's Holp Knows
Who Are You? Lipo's Holp Knows – A Poetic Urban Mystery Drama by Tatiana Michelet
– POETIC & CREATIVE WRITING: Experience the beauty of lyrical prose and poetic storytelling as the narrative unfolds in this genre-blending novel.
"Who Are You? Lipo's Holp Knows" is a mesmerizing work of fiction that takes readers on a thrilling journey, blending elements of mystery, fantasy, and creative writing to deliver a truly unique and immersive reading experience. With its deep and metaphorical storytelling, Dreams Beat is filled with high tense dark jokes and explores themes of self knowledge, motivation, self development, and the consequences of our choices. Get ready to dive into a world of dreams where serious offenses and blood wars intertwine, where lovers wait and the line between reality and fantasy becomes blurred. Are you ready to discover who you truly are? Let Lipo's Holp guide you on a poetic journey of diseased optimism and shared wisdom. Prepare to be captivated until the very end.